Attorney Information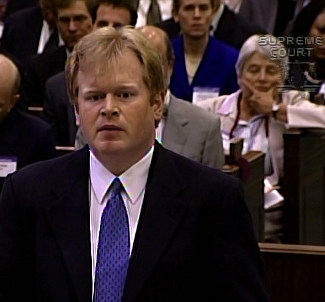 Mr. Daniel Woodring has lived in Florida for almost 30 years, but was born in Philadelphia, Pennsylvania. In Florida, he has lived and worked in Pensacola, Clearwater, Jacksonville, Gainesville and Tallahassee. His wife Jean, who is also an attorney, was born in Miami, and grew up in Ft. Myers. They have a son and a daughter.
Mr. Woodring is recognized as a Florida Super Lawyer, an honor given to fewer than 5% of Florida Attorneys, and holds an Avvo "Superb" rating.  Mr. Woodring also has an AV Preeminent® Peer Review rating. AV®,  AV Preeminent®  are registered certification marks of Reed Elsevier Properties Inc., used in accordance with the Martindale-Hubbell certification procedures, standards and policies, and the ratings are explained at www.martindale.com/ratings.
Courts In Which Admitted to Practice
Mr. Woodring is a member of the Florida and Georgia Bars, and is admitted to practice before the Florida Federal Southern, Middle and Northern District Courts, the Eleventh Circuit Court of Appeals and the U.S. Supreme Court. He has worked at the trial level on cases in many of Florida's 20 judicial circuits, in addition to cases in state administrative tribunals. He has argued cases at the Florida Supreme Court and Florida District Courts of Appeal, and has briefed cases at the U.S. Supreme Court.
Education
He graduated from the University of Florida, College of Law with a Juris Doctorate, Cum Laude, and received his B.A. degree from Clearwater Christian College, Summa Cum Laude.
Experience:
Appellate Judicial Clerkship
After law school, Mr. Woodring was in private practice doing general civil and appellate work. He then left for a two year appellate clerkship at the First District Court of Appeal. During his time at the court, he worked on cases including, but not limited to: criminal; family law; administrative law; workers' compensation; business and civil law; constitutional law.
Counsel in the Executive Office of the Governor
Mr. Woodring next worked as a counsel in the Executive Office of the Governor, Office of the General Counsel. During his time in Governor Bush's Legal Office he had diverse responsibilities, including oversight and strategic litigation management of significant legal matters at numerous Governor's agencies, including the Department of Education, Department of Management Services, Department of Business and Professional Regulation, Department of Health, Agency for Health Care Administration, Department of Children and Families, Department of Community Affairs, Department of Elder affairs, Agency for Workforce Innovation, Department of Transportation, and the Department of State.
He was also legally responsible for topics as disparate as emergency operations; advising the Governor on the selection of judges; implementation of civil service reform; reform of workers' compensation; budget and appropriation matters; Indian gaming law; and legally advising the Florida Cabinet sitting in its many capacities, such as the Florida Land and Water Adjudicatory Commission.
General Counsel to the Florida Dept. of Education & the University Board of Governors
Mr. Daniel Woodring was then offered the opportunity to be General Counsel for the Florida Department of Education, which encompassed Pre-K though 12th grade, community colleges(now State colleges) and the Florida University System. He was also the first General Counsel for the Florida Board of Governors, when that Board was constitutionally created to manage the State University System.
During almost five years at the Department of Education, Mr. Woodring advised and litigated on matters including, but not limited to: constitutional challenges to Florida's education programs, including Opportunity Scholarships and the charter school approval and appeal process; doing away with race as a preference in university admissions and state contracting; teacher and professional discipline cases; union, labor and employment matters; state procurement and bid protest proceedings; administrative rule challenges and rule making proceedings; IDEA and Section 504 proceedings; public records, government in the sunshine and ethical matters; contract negotiations and disputes.
Private Practice with the Woodring Law Firm
Since 2007, Mr. Woodring has been back in private practice as the principal of the Woodring Law Firm, located in Tallahassee, Florida, but with a statewide practice, including Pensacola, Jacksonville, Gainesville, Tampa Bay, Orlando, West Palm Beach, Ft. Myers, Ft. Lauderdale, and Miami. He concentrates his practice on appeals; constitutional cases in both state and federal court; education law matters, including charter school representation; Business litigation; and state administrative matters, including state procurement, regulation and licensing, rule challenges and proposed rule making, although he also handles cases in many other areas.
Please look at the individual practice areas on the left menu for more information.
Mr. Woodring is a member of the Appellate, Administrative, and Governmental Lawyer sections of the Florida Bar and served as Chair of the Education Law Committee of the Florida Bar.

Call Now Button