Appellate Law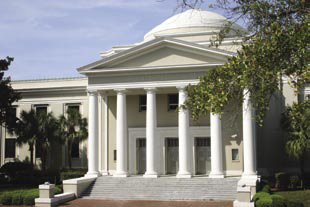 If you have an important case you need to win or defend on appeal, we want to talk to you! The Woodring Law Firm pursues appeals in the Florida Supreme Court, every Florida District Courts of Appeal, the 11th Circuit Court of Appeals and the U.S. Supreme Court.
Mr. Woodring has worked on hundreds of appeals, and has significant appellate experience working on high-stakes cases impacting thousands of people and billions of dollars at the highest state and federal levels. He served as an appellate law clerk, and, while working for the Governor's Legal Office, spent years helping  interview and select the best judges for Florida's Trial and Appellate Courts. Mr. Woodring is a member of the Florida Bar Appellate Law Section.
Choosing your appellate counsel and determining whether you should appeal or defend an appeal is a very important decision. Fewer than 15% of appeals are successful, and you need to quickly determine if you have a case that, with good appellate counsel, is likely to be successfully appealed or defended on appeal. See also Should I Appeal ? for more information about analyzing your appeal. We will always discuss with you the strengths and weakness of an appeal or defense, the likely costs to appeal, and whether there is a way for you to recover your attorney fees if you win your appeal. There are sometimes statutory or contractual grounds to recover your appellate attorney fees, such as the provisions in Section 120.595 Florida Statutes for some administrative appeals.
Timelines are often very tight to preserve your right to appeal, so do not delay in contacting appellate counsel, or you may lose your right to take an appeal. Also, issues and arguments must be preserved at the trial level to preserve them for appeal. Preparing for the appeal can start well before the trial proceedings are finished. We welcome the opportunity to help preserve appellate issues at the trial level, whether formally as co-counsel or in an informal role.
The Woodring Law Firm is always interested in pursuing appeals that raise significant issues of State or Federal constitutional law, but we also handle many other appeals such as appeals from administrative hearings at DOAH, civil rights and discrimination cases, workers' compensation cases, business and general civil matters, contract and procurement cases, cases that raise ballot summary and title issues, citizens' initiatives, chapter 119 public records and government in the sunshine cases, licensing, regulatory and discipline cases; education appeals; appeals from the Public Employees Relations Commission, the Florida Elections Commission, The Florida Commission on Ethics, tort claims and related insurance cases and Section 1983 appeals. We do not take criminal appeals unless the appeal is based on actual innocence. We handle most civil appeals, but not family law, SSDI, unemployment or immigration appeals.
Examples of some significant appeals Mr. Woodring has been involved in can be found at Woodring Appellate Cases
We represent individuals, not for profit entities, associations, Florida and national businesses, and governmental entities on appeal in state and federal court. If you are defending an appeal, believe that you wrongfully lost in a trial or an administrative hearing, or that you have significant legal issues in your case that need to be preserved for appeal, we want to talk to you. We also welcome referrals and co-counsel opportunities from trial counsel.
Call Now Button