Home
Our office is located in Tallahassee, Florida in a historic downtown building within walking distance of the State Capitol, many state agencies, the Florida Supreme Court, the Leon County Second Circuit Courthouse, and the Federal District Court for the Northern District of Florida.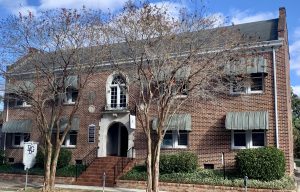 This location is convenient for dealing with the many state agencies headquartered in Tallahassee, and matters such as appeals to the Florida Supreme Court. However, we have a statewide practice, from Pensacola to the Florida Keys, and all the areas in between such as Jacksonville, Gainesville, Orlando, Tampa, St. Petersburg, Sarasota, West Palm Beach, Miami, Naples, and Ft. Myers. We also handle appeals to the Eleventh Circuit and the U.S. Supreme Court. From time to time, upon special admittance, we will handle cases in other states.
We are selective about our clients and the cases we take. We try to only take on client matters when we can add value providing accurate advice that avoids legal problems,or getting a good result when the law and facts support a client's position. Our reputation is on the line for each and every client. We do not take many of the cases we are contacted about, even when someone wants to pay us, if we do not think it is case that we can see a way to get a good client result, whether we are defending or prosecuting a case. Each party to a legal dispute may have the right to have an attorney, but they do not each have the right to our representation. When we discuss a potential case with you, we promise to always be candid in discussing the merits of the case, and the potential return on your legal investment.
If you think you have a claim or a case in which the law and the facts support your position, we want to discuss your case with you. Please look further at the Florida Practice Area page links for more specific information, and to see examples of cases we handle. Broadly stated,our practice areas are:
Appellate Law, Civil and Administrative, in both State and Federal Courts
Charter School Law, representing Charter Schools and Management Companies
Florida Procurements and Bid Protests
Professional and Occupational Licensing and Discipline cases.
Constitutional Cases – Florida and Federal
Education Law – Representing Students and Schools, in K-12 & Higher Ed – Public and Private
Business and Civil Litigation– State and Federal Court
General Counsel Services – Florida Businesses, Charter Schools, Not For Profits, Associations
Florida Administrative Law -DOAH Hearings, Rule Challenges
Election and Campaign Law – State and Federal
Ethics, Public Records, and Government in the Sunshine

General Injustice
Our clients include individuals and local Florida businesses, national and international companies, and state or local governmental entities. We represent either plaintiffs or defendants, depending on the merits of the case. If you have a case that you believe we can help you with, please contact us.
If we accept your case, we can partner with other attorneys if the needs of the case make that beneficial, because of the size of the case, the time within which proceedings must be initiated, the geographic location of the case, or other unique factors. Our principal member, Mr. Woodring, has literally worked with hundreds of attorneys on different legal projects, so he has invaluable experience in partnering with or supervising other attorneys when that will benefit the client. For example, he has worked with attorneys from Kirkland & Ellis; Hogan Lovells; Holland & Knight; White & Case; Carlton Fields; Ausley & Mcmullen, and Rumberger, Kirk & Caldwell.
We often co-counsel with other attorneys on appeals, particularly if the attorneys have represented the parties as trial counsel. We welcome referrals from trial counsel for state, federal and administrative appeals. We handle most state and federal appeals, except for criminal, immigration law, and family law appeals.
Call Now Button